A short description of some of our services offered is below. If you have any further questions, feel free to contact us!
Preventative & Diagnostic Exams: We are here for annual exams, new health issues, and preventive care. We take the time with you and your pet to do a thorough physical exam, address all your concerns, and provide excellent care including vaccinations, disease screening, parasite control, nail trims, and nutrition consultations. If your animal is experiencing an illness or another concern, we are here to help. See our extended services below.
Blood work: Routine screenings are an excellent mode of monitoring the health of your pet and detecting problems early. Our blood machines are in house and give us results in about 30 minutes. These tell us a bout the organ and metabolic status of your pet, including electrolytes, liver and kidney function. It also provides complete blood count (red/white cell count), giving us more information not related to the organs (such as infections or blood disorders like anemia).
Microscopic Exam: Sometimes the tiniest things can cause the biggest problems.
We use our microscope to look at anything from itchy skin and ears to full urine & fecal analyses. If your pet has a lump, we can take a sample with a needle to get fast results and give us an idea of what it is.
Radiographs: We offer digital radiographs to aid in a vast array of problems. Any time an x-ray is performed, the doctor will go over the images & findings with you. You also have the option to send images to a radiologist for an additional review.
Surgery: We do all kinds of surgery at our clinic; we are small, but we are not limited. We do everything from spays & neuters to more involved procedures, including ACL repair, fracture repair, eye surgery, mass removals, and abdominal surgery. If your pet is in need of a surgical procedure and you're not sure if we offer it, ask! You might be surprised.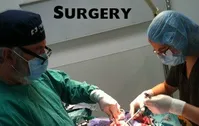 The safety of your family member is the most important thing to us. During surgery, we monitor heart rate by 2 means (including ECG), oxygen saturation, respiration, blood pressure, temperature, and fluid rate. Blood work is performed prior to all surgical procedures in order to tailor sedation protocols to your pet's needs.
Dentistry: 80% of animals over the age of 3 have dental disease. Dental care is a huge part of your pet's overall health and we strive to provide exceptional care, including full dental cleanings. These are performed under general anesthesia and animals are monitored with the same equipment as above. We use an ultrasonic scaling machine and polisher to get your animal's teeth clean & healthy again.
Ophthalmology: A full fundic (back of the eye) exam is performed with every physical exam. We have multiple instruments to examine and test every aspect of the eye, and are able to perform many ophthalmic diagnostic tests during your appointment.
Medical boarding: We offer medical boarding for cats that are currently on medications / have health problems. Our facilities are bright, sunny, and warm while staying private thanks to our tinted floor to ceiling windows. Our clinic cats will ensure your cat is never lonely. If your cat is in need of any additional medical care - whether it's an annual exam or daily medications - we will provide anything your pet needs while you are away.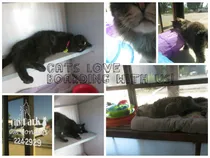 Grooming: We are happy to offer nail trims and anal gland expression services. In every cat is the heart of a lion. Let their personality roar with a lion cut (done with sedation if necessary).
Ultrasound exams: Ultrasound is a more sensitive imaging device that allows us to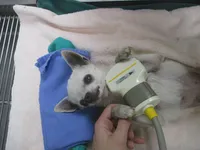 get a better look at the structure of organs. With this we can see things beyond what an x-ray can such as where a mass is located and if it has spread. This is also a very useful tool in emergencies to see if there is fluid in the body where it shouldn't be. We currently partner with a traveling ultrasonographer, available by appointment only.
Laser therapy: Laser is a safe, non-invasive drug-free option for pain relief. It is most often used in arthritis management but has many applications.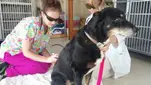 Online Pharmacy: We now offer an online pharmacy through Vetsource. They provide food and prescription medications that are sent directly to your home. Once approved by one of our veterinarians, you have the ability to receive the products you need for your pet without leaving the house. Use this link to start shopping: VetSource.
Emergencies: Our clinic is capable of handling most emergency situations - please call us immediately if you suspect your pet is in need of immediate medical attention. If your pet needs overnight or critical care we may refer you to a 24 hour facility but we are happy to do any initial diagnostics and stabilization. If you feel that your pet has an immediate emergency, please contact the Veterinary Emergency and Rehabilitation Hospital at 970-484-8080, CSU Veterinary Teaching Hospital at 970-297-5000, or Four Seasons at 970-800-1106.
End of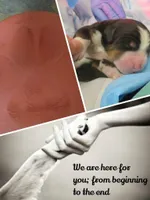 Life Care: The hardest part of sharing our lives with our pets is saying goodbye. We are here to answer any questions you have and allow you to be with your animal through the entire process in privacy.